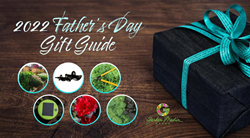 KENNETT SQUARE, Pennsylvania (PRWEB)
June 16, 2022
This Father's Day, why not focus on getting that special man in your life something green and good for him that will give him years to come!
The Garden Media Group has created this helpful gift guide that takes the guesswork out of choosing plants, how to plant them with ease and keeping them safe and happy, and other green gift ideas.
Celebrate with these six garden gift ideas:
1. Plant with purpose. The Garden for Wildlife movement is revolutionizing the way people garden to help wildlife and their communities. The new Garden for Wildlife™ Native Plant Collections are curated combinations that include key perennial plants to support pollinators in specific ecoregions. This initiative takes the guesswork out of what to plant for wildlife and makes it easy and seamless for Dad to impact wildlife and the planet. Visit gardenforwildlife.org for more information.
· $68-$118

· Affiliates available
2. Put the power into planting. Make his life easier with Power Planter's Auger Starter Pack. This set includes two garden auger bits that turn his favorite electric or cordless auger into a powered auger: plant bulbs, seeds, plugs and annuals with ease. Hand welded and proudly made in the USA, Power Planter products are guaranteed to last! Find out more here: powerplanter.com.
· $43.50

· Affiliates available
3. Weeding Robot. Dads love tools that make their job easier and love showing off new toys. And while some people love weeding, there are always other things for a dad to do. Developed by the same inventor as the Roomba, the Tertill weeder kills weeds organically, eliminating the need for herbicides and weed killers. How does it work? Its wheels kick up the top layer of soil, looking for baby weeds and chopping them off before they can grow. Solar powered and weatherproof, this handy tool is as effective as hand weeding – but so much easier.
· $299

· Affiliates available
4. Super Dad Tools. Upgrade Dad's tools for all his outdoor gardening and landscaping work with the heavy-duty Centurion Brands 3-Piece Pruner, Hedge Trimmer and Secateurs Combo Set. This ergonomic set is ideal for trimming hard-to-reach branches, shrubs and roses. Each tool features non-slip handles to reduce strain on wrists and arms. Give him the perfect tools for every job! Information on these and other tools can be found at CenturionBrands.com.
· $38.89

·Amazon
5. Plant your own "mini masters". Augusta's famous blooming azaleas transform the golf course into a setting to remember every year – bring this blooming beauty to his garden this Father's Day! Encore Azaleas bloom every Spring…Summer AND Fall, offering three seasons of colorful flowers. Try Autumn Fire for an abundance of scarlet blooms, or the new Autumn Starburst, whose two-toned blooms feature a coral star against brilliant white petals. Available at select home and garden centers and online at PlantsByMail.com.
· $21.99-46.98

· Affiliates available
6. For the cook. We all know that fresh herbs and veggies make all the difference, and it doesn't get any fresher than homegrown. Seed collections make a great gift for dads who enjoy growing their own to make their kitchen extra special. Park Seed's Organic Herb Seed Collection contains a complete kitchen herb garden in one easy to grow collection for herbs fresh from the garden. Or, for tasty fajitas, try the Fajita Vegetable Seed Collection. If you've never tasted fajitas made with fresh ingredients straight from the garden, you've never really experienced fajitas. Visit ParkSeed.com for more information.
$19.95

· Affiliates available
Whether the recipient of your Father's Day gift is a super dad or a super chef (or maybe both), get him a gift that will make others green with envy.
Garden Media specializes in the Home & Garden, Horticulture, Outdoor Living and Lawn & Landscape industries, delivering innovative PR campaigns designed to secure top media placements and partnerships. Visit http://www.gardenmediagroup.com for more information.
Share the article on social media or via email:
.